Theresa May visits Nigeria as Brexit trade mission continues
Theresa May is visiting Nigeria on the second day of her trade mission to boost ties with Africa after Brexit.
Mrs May discussed security, trade and people trafficking with President Muhammadu Buhari and will later meet victims of modern slavery in Lagos.
The prime minister already announced £4bn of extra British support for African economies during the first leg of her trip on Tuesday.
She also insisted her "sensible" Brexit plans will deliver a "good" deal.
After talks with President Buhari in Abuja, Mrs May said the UK's departure from the EU would increase opportunities to extend commercial links with Nigeria – the UK's second largest trading partner in Africa.
The PM announced a new UK and French project to help Nigeria and Niger strengthen their borders to crack down on human trafficking.
During her visit to Lagos, Nigeria's largest city, the prime minister will pledge to support victims of modern slavery who have suffered "enormous trauma".
Speaking ahead of her visit, she said the UK was a "world leader" in trying to end all forms of exploitation, including forced labour, domestic servitude and sexual abuse.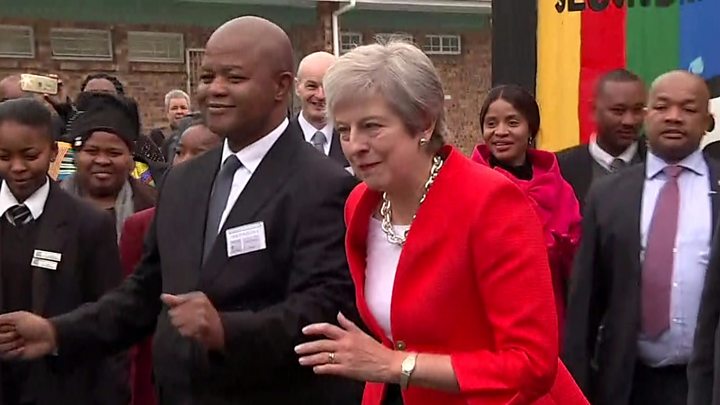 Labour's Shadow Home Secretary Diane Abbott said Mrs May's "warm words" rang hollow as her government had cut Border Force staff and police officers, who were "the frontline in the fight against modern slavery".
Mrs May's three-day trip to Africa is aimed at deepen economic and trade ties with growing African economies ahead of Britain leaving the EU in 2019.
Arriving in South Africa on Tuesday, Mrs May – who is accompanied by a team of business delegates – said she wanted the UK to overtake the US to become the G7's biggest investor in Africa by 2022.
She struck Britain's first post-Brexit trade pact with Mozambique and the Southern African Customs Union, made up of six African nations. The EU currently has an economic partnership with this union, and the UK will now continue working with it after Brexit.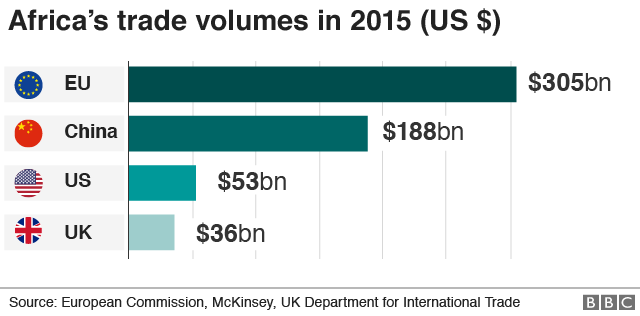 And Mrs May also pledged a "fundamental shift" in aid spending to focus on long-term economic and security challenges rather than short-term poverty reduction.
On Thursday, she will finish her tour in Kenya, where she will hold talks with President Uhuru Kenyatta and attend a state dinner, visit a business school and meet British troops.
While in South Africa, the prime minster also faced questions from journalists on Brexit.
She told the BBC's Ben Wright that the UK is "still operating to the timetable" as it is originally set out in the Brexit negotiations.
It comes after the EU's chief negotiator Michel Barnier indicated last week that a deal may be pushed back to early November.
She played down warnings from Chancellor Philip Hammond – who said last week that a no-deal Brexit could damage the economy.
She said the comments were based on analysis first released in January that were, at the time, a "work in progress".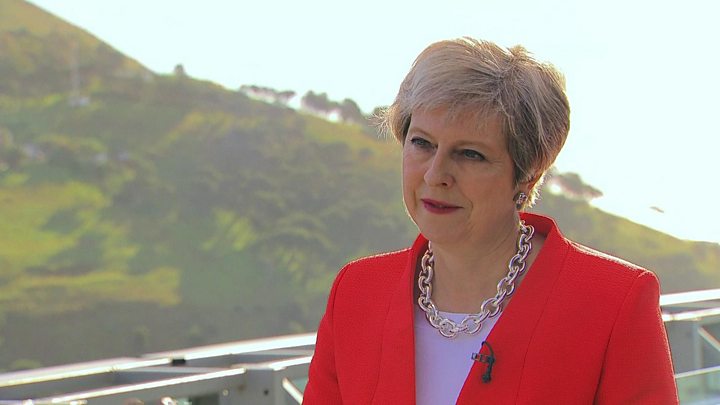 Mrs May then cited comments by the head of the World Trade Organisation, who said Brexit "won't be a walk in the park, but won't be end of the world either".
"We are working for a good deal, we have put forward our proposal for a good deal," she said. "I believe that deal is to the benefit, not only of the UK, but the EU.
"What the government is doing is putting in place the preparations to make sure we can make a success whatever our future relationship is with the EU and whatever the outcome of the negotiations."
Talking to journalists on board RAF Voyager on Tuesday morning, Mrs May reiterated that she believed a no-deal Brexit was still better than a bad deal.
---
Nigeria: May's trade mission
By BBC Africa business editor Larry Madowo
Nigeria is Britain's second largest trading partner in Africa, but should the country be so focused on the UK?
Tunji Andrews, an economist based in Nigeria's commercial hub Lagos, believes Nigeria should concentrate more on its relationship with the European Union.
"The diversity of demand of the EU market makes it slightly more attractive.
"I think it's impossible not to look at the British market at this point, but I'll also say that while Britain remains a viable trade partner, it just doesn't hold the same value to Africa as China and to a lesser extent, the US."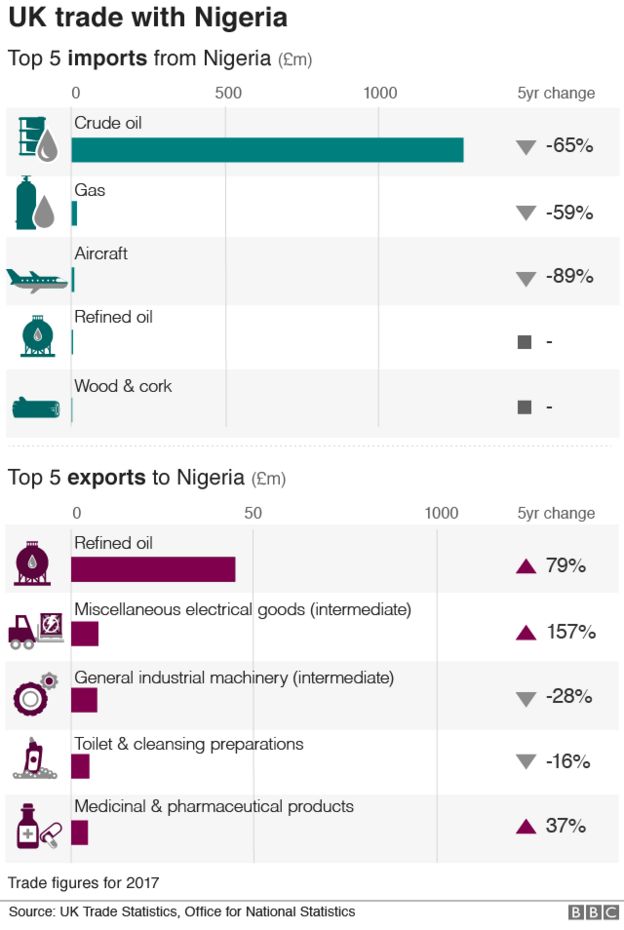 Nigeria's top export to the UK is crude oil and its largest import is refined oil, a structural inefficiency that leads to regular fuel shortages as the populous West African nation lacks a properly functioning refinery.
s/bbc