Rishi Sunak's Tanzanian roots amid post-independence ambitions in EA
Summary
Rishi Sunak's maternal grandmother, born in Tanzania, left the country for greener pastures in the 1960s
The rise of Rishi Sunak as British Prime Minister ends as a beautiful story that started with political rejection in East Africa.
The first British-Asian to hold UK's highest office has roots in Tanzania, before his grandparents shifted to Britain in the 1960s.
The shift was mainly caused by post-independence legislation and regulations rejecting dual citizenship recognition.
Rishi's grandmother – Tanzanian roots
Unconfirmed claims state that Rishi's maternal grandmother, Sraksha, lived in the Upanga area of Dar es Salaam. However, a more detailed account of the family's Tanzanian provenance is found in a biographical account titled Going For Broke: The Rise of Rishi Sunak, written by Lord Ashcroft. It further credits Rishi's grandmother for laying the foundation for the Prime Minister's eventual success.
The biography describes Sraksha as someone with extraordinary courage and vision—a remarkable woman who grew up in rural Africa and gambled everything she held dear to give her children a better life.
Sraksha was born to Hindu Punjabi parents in Tanzania. She learned Swahili as a child and considered Africa her home, although her family retained close ties with India.
"At the age of 16, she entered an arranged marriage with Rishi's grandfather, Raghubir Berry, a railway engineer from Punjab then working in Tanzania," reads the biography in part.
"In a move highly unusual at that time, this smart, confident young woman persuaded her groom to build a new life in Africa—a reversal of the usual wedding custom of 'bidaai' whereby the bride leaves her childhood home to join her husband," reads another part.
The biography says Raghubir found a job as a tax official in Tanzania, where they raised three children: Rishi's mother, Usha, and her two younger brothers.
In the 1960s, the family had set its heart on a move to Britain, inspired by Sraksha, who was beguiled by the idea of the land of Oxford and Shakespeare.
But while immigration rules made the move possible, finances were more of a problem.
"Undaunted, Rishi's grandmother sold all of her wedding jewelry to buy a one-way ticket to Britain, leaving her husband and three children behind in Tanzania in the hope—by no means a certainty—that they would one day be able to join her. It was an immense risk to take," reads the biography.
It was during that same period that issues of citizenship were rife. The Citizenship Act of Tanganyika, 1961, was passed after a furious debate that focused mainly on issues of race.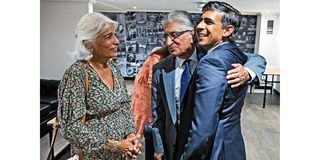 During the transition period, Asians and Europeans could register as Tanzanians or become citizens by birth if both or either of their parents was born in Tanzania.
Many people were not registered by the December 31, 1963, statutory deadline due to the government's resource constraints in processing citizenship applications and enforcing the law.
For instance, it is reported that of the approximately 92,000 Asians in Tanganyika, only 21,557 were registered for citizenship, although the number of qualified applicants was about 60,000.
The government, however, threatened to detain and deport noncitizen traders, mostly Asians, if they did not hold a temporary permit pending approval of their citizenship status.
However, under the Tanzania Citizenship Act (TCA), once a person reaches the age of eighteen and holds another citizenship in addition to Tanzanian citizenship, they are considered to have ceased to be a Tanzanian citizen.
It was also in the 1960s that Tanzania passed the Arusha Declaration, TANU's Policy on Socialism and Self-Reliance. The declaration made it difficult for noncitizens to run or own businesses. Some of the declarations included: "That in order to ensure economic justice, the state must have effective control over the principal means of production; and that it is the responsibility of the state to intervene actively in the economic life of the nation so as to ensure the wellbeing of all citizens and so as to prevent the exploitation of one person by another or one group by another, and so as to prevent the accumulation of wealth to an extent that is inconsistent with a classless society."
The situation in East Africa had made it difficult for Rishi's family to continue living under the political system. As a result, Sraksha left for the UK. Upon arriving in the UK in 1966, the biography says there were no family or friends to greet her, but Sraksha made her way to Leicester and rented a room as a paying guest of a distant acquaintance.
She found a job as a bookkeeper with an estate agent, where she started saving every penny, and a year later was finally able to pay for her husband and children, including Usha, then 15.
Her family eventually joined her in Britain, and she began the new life she had long desired.
"Her vision was the start of a remarkable success story that, with the meteoric rise of her grandson Rishi, is still unfolding," reads the biography.
The document says Usha went on to study pharmacology at Aston University, where she was introduced by mutual friends to Yashvir Sunak. Sunak was a medical student who had recently graduated from Liverpool University and whose upper-middle-class Punjabi family had moved to Britain from Nairobi during his young adulthood.
"Usha and Yashvir married in Leicester in 1977 before relocating to Southampton, where their first child, Rishi, was born on May 12, 1980. Another son and daughter followed," says the biography.
Rishi's political aspiration
Regarding his decision to enter politics many years later, Rish dedicated the decision to his parents, who motivated him but not in a political way, according to the biography.