The Glam Hijabi: The incredible beauty tricks I learnt from my Somalian mother
Hani Sidow is GLAMOUR HQ's 21-year-old beauty blogger. London-based Hani, who hails from Somalia, is breaking taboos about being a beauty-loving Hijab wearer, helping inspire other women on Muslim beauty, fashion and modesty. In her latest column for GLAMOUR, she reveals how her upbringing shaped her beauty regime – and shares her best-kept beauty tips handed down through the generations in Somalia.
The DIY beauty hacks my mother taught me
Growing up in a Somali household meant everything was pretty much DIY when it came to beauty, self-care and healing. In my house, my mother made sure that we all knew the cure for everything was the famous black seed oil.
If I got a cold, she would mix it in with honey and lemon for me, and if I got a pimple, I'd apply the oil directly on the spot with a cotton bud. Believe it or not, it worked. So it's pretty much become my answer to everything. Black seed oil may not smell the greatest, but I like to call it the miracle oil because it's yet to let me down.
From scrolling through Twitter, I was reassured that this was quite common in most African households. I've always looked into natural DIY productsand their benefits before spending lots of money on products with unnecessary chemicals.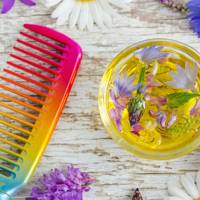 HAIR
Incredibly nourishing DIY hair masks and dry shampoos you can make in your kitchen
So a little funny story for you, dear readers! One hot summer's day, I remember reading Chloe's DIY post on the benefits of putting honey in your hair as a mask. After spending time reading it, I went home after our lecture and told my mum about the idea and said I wanted to try it. "Honey is perfect for your hair, it makes a great face mask, too", my mum told me.
Why going au natural is the best beauty hack
One of the best decisions I've ever made was focusing on natural products from mykitchen cupboard. I would advise watching YouTube DIY videos, finding out more about the uses of the ingredients in your weekly grocery list and asking your parents or grandparents what their holy grail was. My mum always reached out for honey and black seed oil, and, oddly enough, that is literally what I turn to in my time of urgent self-loving.
s/glamour magazine